I was honored to receive a 3-week paid sabbatical from Simms Fishing Products in recognition for my lengthy tenure with the company (thank you, SIMMS!). After some thought and knowing that my husband wouldn't be able to join me, I decided that I would do a tour of good – volunteer for non-profits that I admire and support, visit my family, and connect with my oldest & dearest friends. I called it the "Do Good. Be Good." tour.
I reached out to two people that I knew could help direct me on my volunteer efforts: Whitney Milhoan, Executive Director for Casting for Recovery (CfR), and Emily Sather, Community Engagement & Volunteer Manager for Warriors & Quiet Waters (WQW).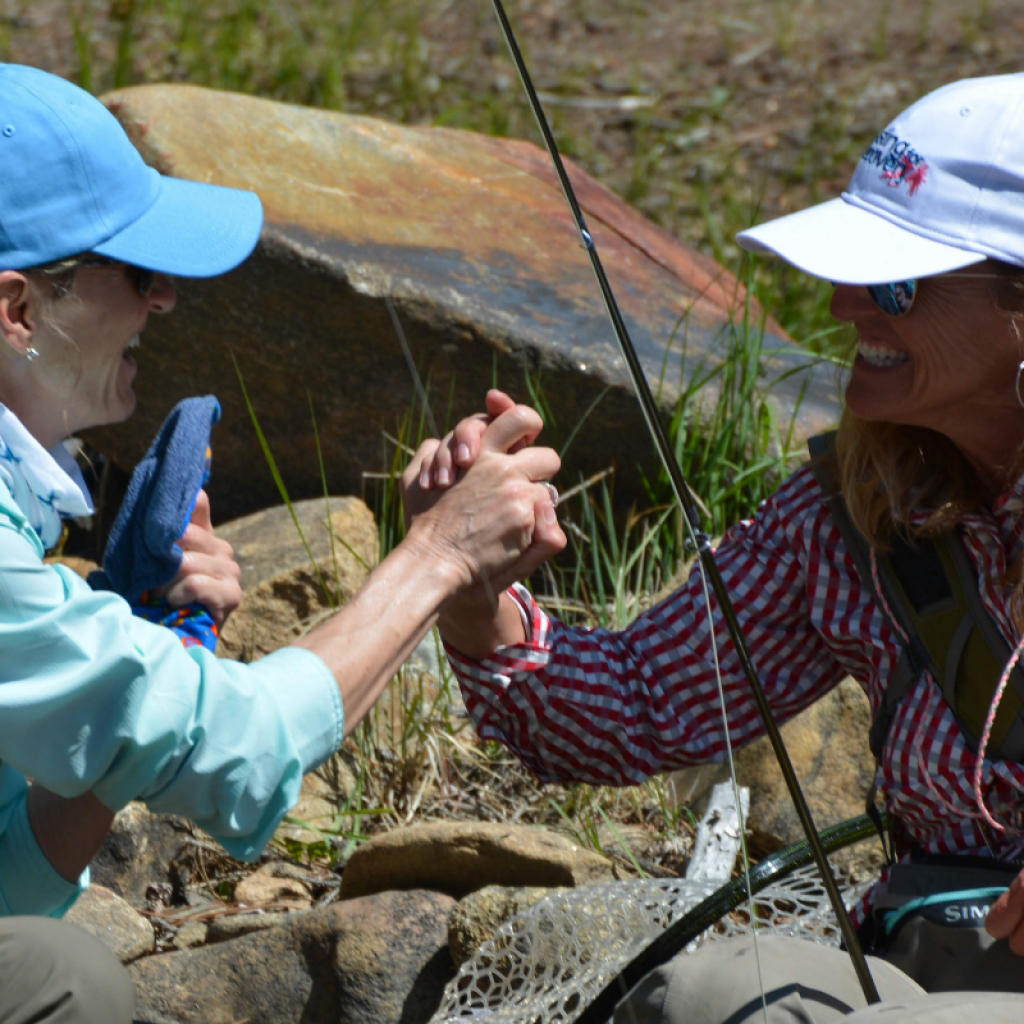 Because CfR has programs across the country, Whitney made recommendations of which CfR Retreat might work best for me. One of those she highlighted was with Casting for Recovery Colorado hosted at the North Fork Ranch in Shawnee, Colorado. Because most of my family & friends are in Colorado, that retreat was ideal, so I signed up and this would kick-off my sabbatical.
With that secured, I was able to coordinate with Emily at WQW to volunteer for a Warrior Caregiver FX (fishing experience). This event would wrap up my sabbatical, so I planned to take the week in between the two volunteer events to travel around Colorado.
I was both excited and nervous as I set off. I've worked with both organizations for many years, so I knew the programs. And both of the groups provided great pre-event outreach, so I knew what my role would be and the general flow for both events. I was nervous for a couple of reasons. While I've fly fished for many years, and I'm a competent angler, I didn't want to misrepresent my skills. What if I fell short of expectations? After an evening session with my brother, Mike, practicing my roll cast (in a creek bed no wider than a theater aisle and filled with obstacles), I was feeling better. The bigger concern I had, and couldn't really mitigate with some casting practice, was how I might provide support and/or comfort to the women coming to these retreats. It's not that I haven't known anyone with breast cancer or someone affected by military combat, but I have no direct experience. This tour was about doing good for them, but how could I if I didn't know what they were going through.
At both the CfR Retreat and the WQW FX, I learned that my contribution wasn't my experience, insight, words of wisdom, or even my knot tying. I was a conduit to something besides their day-to-day. And that is a role that I fully embraced because I saw the impact. For the time that the participants were at the retreat, they were thinking about something besides what they or their spouse were going through. They were taking in the beauty of the outdoors, trying to remember all of the new skills they were learning, meeting new people, eating delicious and bountiful homecooked meals, and really wanting to catch a fish (in some cases, the first fish, the biggest fish, the most fish, the most species, and on and on.). It was something to behold. And those smiles – they were real.
Now that the three weeks are nearing the end, I enjoy looking back to think about what I've learned. First, the people that work for and volunteer with these organizations are some of the most genuine, thoughtful, kind, and giving people that you will meet. Many of the volunteers have gone through these programs as participants and want to give back. Talk about "doing good". Next, a shared focus eliminates barriers or obstacles, it immediately brings people together. I know that I have made lifelong friends from this experience. It was also a reminder that everyone is going through something. Some challenges are more daunting and scarier than others, but all can be stressful, hurt your head, and probably cause some heartache. Sometimes just sharing what you are going through helps. Finally, connecting with people – at the river's edge, in a drift boat, over a slice of pizza or a glass of wine, or at a family reunion, is good for the soul.
Did I do good to be good? Honestly, I'm exhausted. And I gained about 10 pounds (remember the "delicious and bountiful" food referenced above?!). However, my mind is recharged and my heart is full. So yes, I'm good.
Written by Diane Bristol